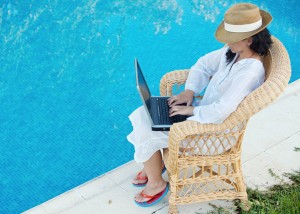 Reasons to Search for a Job in the Summer!
Snow is gone, jobs aren't. The old saying "the show must go on" also stands true to the working world.  Even though most employees spend their time over the summer going on vacation, hiring operations are still going strong in companies.  This gives candidates time to get a HUGE jump start before the fall rush hits and others start to look for jobs – LESS COMPETITION!
Contract jobs are on a rise. Summer is a very popular time to travel therefore a lot of companies need to make sure they have backup to ensure the job is still being done.  This opens many opportunities for contract positions, which can ultimately turn into fulltime roles.
Network in the sun. Many of us North East locals can agree that in the winter we all relate to the term "being a hermit" – however, when the sun is out we naturally want to enjoy it and spend our time getting fresh air.  NETWORK! NETWORK! NETWORK! Networking is HUGE in the summer to get out there and attend meetups to learn what opportunities are available with different companies and you get to mingle in a more casual atmosphere.
More down time, more opportunity to learn. Companies like to hire in the summer because it is slower which leads to more time to train new employees so they can hit the ground come fall.  This also is a huge benefit to you because you can prioritize with revising your resume to appeal to the roles you are applying for, and prepare yourself without feeling rushed.
Not suspicious asking for PTO. The common theme of this post is TRAVEL, so when an employee requests time off it doesn't raise a red flag to their current employer.  This helps with the anxiety and worry that someone might catch on to when skipping out early or taking a longer lunch break to interview.